Monday, 10 July 2023 12:03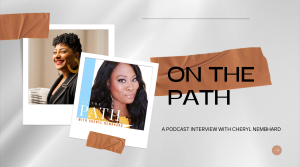 So excited for you to hear this conversation with Speaker, Advocate & Racial Equity Consultant Camille Dundas as we continue to celebrate Women's Month and the game changers who are shaping this country!
ByBlacks.com is a premiere online magazine! In this episode, Camille speaks about the buried history of racism in Canada and the role that Media plays in upholding systemic bias in this nation.
She also shares vulnerably about her personal story as a Journalist in Canada.
This was hands down one of my favourite conversations this year and an incredible episode for those on a journey of learning and change!
"Our perception of ourselves as Canadians didn't come out of nowhere. It is a carefully crafted narrative that we must be willing to interrogate. If we are unwilling to look at the historical truths of how we got here - to a society with workplaces built to privilege some and oppress others - we will be stuck in the same cycle of empty EDI rhetoric followed by toothless policy changes. Stop - before you make another step in your EDI journey, stop and educate yourself and your team on why this is even necessary. You'd be surprised at how many people simply do not know." - Camille Dundas
{https://youtu.be/2_vMt15TOnM}