Monday, 10 July 2023 11:27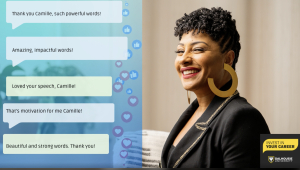 Close to 200 people attended as I spoke about the importance of lifelong learning, pushing outside of comfort zones, and investing in our own well-being.

Here's an excerpt from my speech:

"When I was growing up I'd always hear people say.. you only get one chance! But I don't believe that. Every single day that you're alive.. you get a chance. A chance to be great, a chance to be kind, a chance to shift your reality, a chance to impact the future. Am I always this optimistic? No. I'm not. To be honest, the last few years have been really hard, on all of us. Most days, I'm not great… but I am grateful. Because I'm living. I'm living in the world, and someone, somewhere has been impacted because of my choice to live. My choice is to live boldly, and fiercely dismantle barriers, starting with the ones I've been taught to impose on myself."